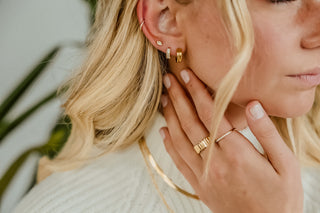 Our jewels, your way
Welcome to our MI-based small batch jewelry brand, where we believe in experiencing everyday luxury and elevating your style with our affordable jewelry. Our mission is to cultivate confidence and good energy through our thoughtfully crafted pieces.
At Hoft Studio, we understand that jewelry is not just an accessory but a reflection of your unique style and inner radiance. That's why we meticulously design and create each piece with care, ensuring that it exudes an aura of elegance and grace.
We believe that luxury should be accessible to all, which is why our affordable jewelry allows you to embrace sophistication without compromising your budget. We take pride in offering high-quality craftsmanship and exquisite designs that elevate your style and leave you feeling empowered.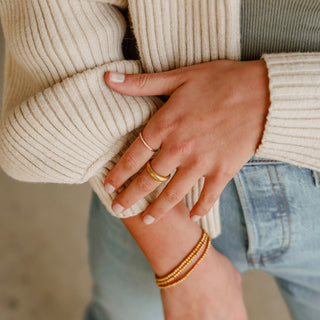 But our commitment doesn't stop there. We go beyond aesthetics to cultivate confidence and good energy. Our jewelry is infused with positive intentions, serving as a reminder of your inner strength and beauty. We believe that when you feel good, you radiate positivity and inspire others around you.
Join us on this journey of experiencing affordable, everyday luxury and together, we can unlock a realm of newfound confidence.
Note from Amber
"From the beginning, I've always had a drive to create something that would help women feel more confident and empowered. I want to say that it wasn't just the drive that brought this new chapter, it was you who truly made this dream come true. Without your love and support of Hoft Studio, none of this would have came to be so and for that I am forever grateful. Together, we've created a community of women that build each other up through commonality and it's a more beautiful journey than I could have ever imagined.
Thanks my loves."