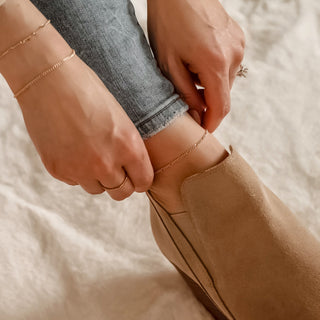 your newest obsession
Permanent jewelry
If you haven't heard of permanent jewelry, it's exactly as it sounds—forever—or at least until you want to take it off. There's no clasp so you don't have to worry about trying to put it on one-handed. Permanent jewelry makes for the perfect friendship bracelets, bridesmaids gifts, sister-sister or mother-daughter bracelets.
Our permanent jewels are welded + custom-sized to fit your wrist, neck, ankle or finger. After selecting the chain of your choice, we will perfect the fit and weld the metal to create a clasp-free bracelet, necklace, anklet or ring. Our sustainable 14k gold fill + sterling silver chains present a minimal aesthetic, but don't require delicate wear. We also offer clasps for an additional charge.
pricing
14kt gold fill + sterling silver
Bracelet/Anklet............$55-$85
Necklace........................$115-$135
Charms...........................$18-$38
Clasp...............................$12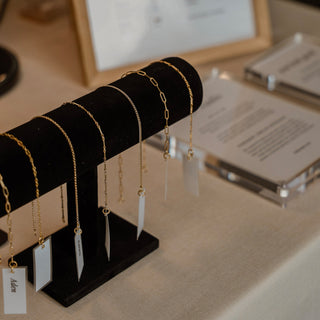 what you need to know
Event details
We offer permanent jewelry services at business events, pop-ups & private parties in northern Michigan to central Wisconsin.
Business events & popups
Looking to add a little shine at your next business event or to host a popup at your shop? We are always on the lookout for new places to pop up and would love to make your next event extra memorable.
Private parties
Are you hosting an upcoming bachelorette party, girls night, themed gathering or something celebration-worthy? Let us be the icing on the cake and bring all the shine to you and your guests!
All we require is a minimum of 8 purchasing guests *excluding non-permanent jewelry* and we'll bring the rest to you. In order to secure a date, you must submit a $50 deposit. Your deposit is redeemable against the price of your chain. As the hostess, you are responsible for inviting guests.
If you cancel or reschedule your party for any reason your deposit will be forfeited. To get your full deposit back, you must have at least 8 paid guests {including yourself} attend your event. Parties located more than 15 miles from Iron Mountain, MI will require a travel fee.
Upcoming events
Find permanent jewelry popups happening near you.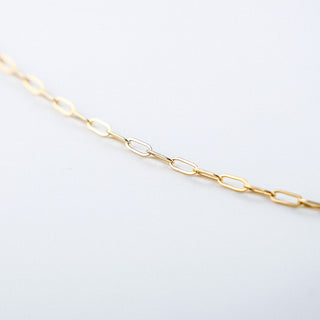 Aden
gold + silver
This bold beauty is the bulkiest of the collection with an elongated opening & thick frame. Often paired with smaller, more dainty chains, Aden is complimentary to both preexisting jewelry and new links alike.
Anora
gold + silver
Small but mighty, this round link is the brightest of our collection. With circular links, the vast surface area beams light from all angles. Saturated with color and personality, bringing light to darkness & promoting resilience.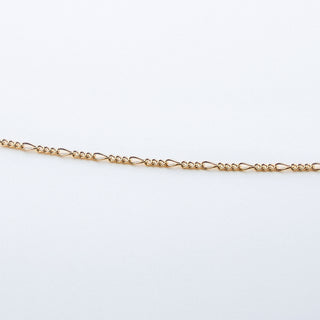 Atlas
gold + silver
An instant staple piece. Made famous by Italians in the eighteenth century, this figaro chain signifies a fashion that will never fade. A perfect pattern of ovals & rings marries design & details to tell a story on skin.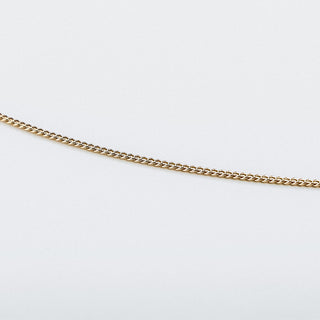 Harper
gold + silver
The statement piece you've been waiting for. An infinity chain intrinsic in shape & style, Harper is bold, curvaceous & authentic, more polished than those before her.
Hudson
gold + silver
Symbolic of a past-life utopia, the light follows her every move, illuminating the surrounding space in a blanket of dancing stars. With a shine so bright, you can't miss Hudson's forever glow.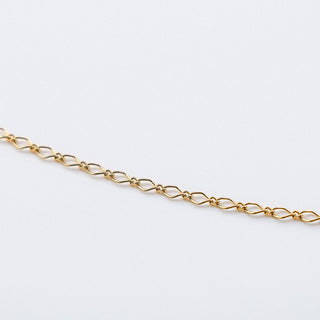 Margo
gold + silver
Dainty and elegant, this diamond link emulates a forever keepsake, equally rich in character & magic. Margo is symbolic of iconic style and authentic taste. A subtle yet striking chain that speaks for itself when worn.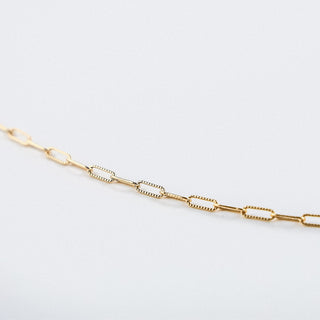 Maverick
gold + silver
Bold, beautiful and the star of the show. Maverick represents the way in which we are ever connected to one another as individuals, linked together through an array of shared emotions, relationships, lifelines, and beyond.
Millie
gold
A collector's item with boundaries unlimited. Millie is far from your ordinary link chain and instead eludes modern elegance with its elongated bar design. A stunning complimentary piece to dainty & bold chains alike.
Phoenix
silver
A classic coin chain filled with the brightest shine imaginable. Phoenix is a show stopper and beams light from every angle. A true show stopper and great addition to a dainty chain stack.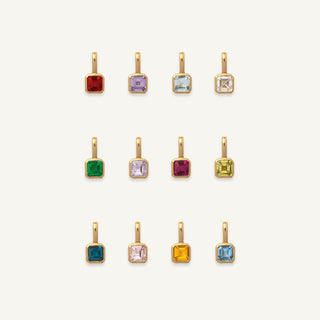 Birthstones
gold + silver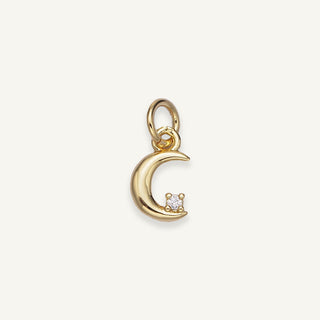 "I recently hosted a jewelry event with Hoft Studio and it turned out even better than I hoped! All of the guests were so happy with their jewelry and the experience was a lot of fun! Highly recommend!"

"Amber did a pop up at our boutique last fall and our customers loved her and the chains she offered! She is very accommodating and flexible to ensure everything runs accordingly. We will be having her back very soon!"
"Talk about a smooth booking process and great communication even before our event! We had a great permanent jewelry party with Amber at Hoft Studio. She was very professional, brought the whole beautiful setup to us and had us all looking amazing by the end!"
"Hoft Studio permanent jewelry is a MUST! Our private event turned out incredible thanks to all the stunning jewelry! Everyone had a fantastic time and left with memorable pieces! Hosting our own event was a great decision!"
Permanent jewelry FAQ's
Our high-quality 14k gold filled + sterling silver chains are durable and welded together, however if you need to remove your jewels you can cut it at the link with scissors.